The Arts-Science Dialogue
The RSA – Royal Society for the encouragement of Arts, Manufacturers and Commerce – is a British multi-disciplinary institution, based in London.
In 2007, the RSA announced it would act as a HUB for the growing ecological artist movement:
" At certain times artists have chosen to engage with the issues of the day….."
Matthew Taylor, Director, Royal Society of Arts UK
The Guardian 19 January 07
"Any great art work … revives and readapts time and space, and the measure of its success is the extent to which it makes you an inhabitant of that world – the extent to which it invites you in and lets you breathe its strange, special air."  Leonard Bernstein.
Lynchpin supports ocean scientists to collaborate with artists.
The University of Tasmania's Institute for Marine and Antarctic Studies (IMAS), is a focus for important ocean science at a level of global significance.
Lynchpin offers scholarships to IMAS students to facilitate their collaboration with artists who are interested in expressing new understandings of climate change. We invite artists from all disciplines to register their interest in being part of this process.
Our scholarships offer a meeting place between disciplines – a space that facilitates or spring-boards collaboration.
The Lynchpin website will highlight the work of particular organisations and artists that explore ways of collaborating with science: follow the links on the menu bar.
To follow collaborative projects by year, highlight the drop down menu under Our Projects.

Arts-Science Synergies – unexpected outcomes and connections!
Art is made to reconnect us to the experience of being in the living world;
science is practiced to understand how the living world can be sustained.
Lynchpin has natural links with Living Data – a connection that supports and enriches both ventures.  We share the commitment to stand with the reputable science and encourage interdisciplinary dialogue that enlarges understanding.
Dr Lisa Roberts who leads the Living Data program explains:
Our projects share the common purpose of connecting scientific and aesthetic ways of understanding climate change. One of the scientists who worked with So Kawaguchi on his discovery of krill sex in Antarctica (last year) gave Sue Anderson my contact details. After several days of intense conversation (by phone and Email), she sends this image.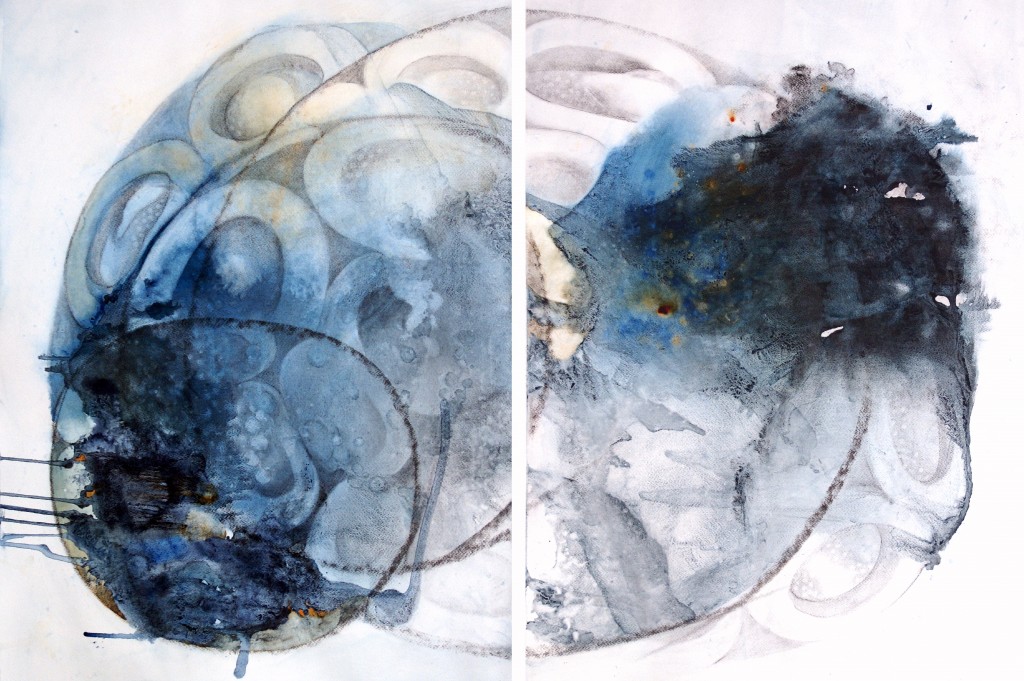 I can't get out of my head the sense of it embodying a Great Beginning that in turn leads to more beginnings … like the beginnings of Lynchpin and Living Data, and new understandings that begin to emerge from our relationship. These understandings will be articulated in time. For now I recognise a relationship between Source and Mary E. White's first summary of The Big Picture Story: First living cells.
The Living Data website is a rich and diverse resource, frequently updated, and showcasing a wide range of artistic expression in response to important science data. Please explore!
More unexpected outcomes! – Fourth International Science Symposium on Bio-logging
Lynchpin was happy to assist the organisers of the Fourth International Science Symposium on Bio-logging,
 Hobart, 2011, to bring Internationally recognised visual and sound artist, Nigel Helyer to Hobart for the event.
This happy connection with the marine science community resulted in Nigel agreeing to become Lynchpin Patron. On his visits to Hobart, Nigel is a source of solidarity and support.  Thanks Nigel!
Nigel was Artist in Residence at the Institute for Marine and Antarctic Studies (IMAS), Hobart in 2012 and in 2013 is continuing in a collaborative project with scientist Dr Mary-Anne Lea on a series of work around the topic of: Bio_Logging.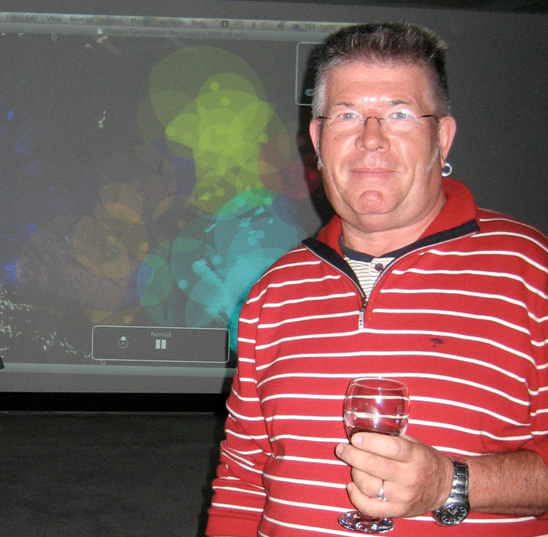 And what is Bio-logging?
Bio-logging  – species tagging – can provide valuable insights into evaluating the influence of oceanographic and climatic conditions on individuals and populations of different species in the Southern Oceans and how variability in this environment may affect Southern Ocean species into the future. The Southern Ocean is a highly dynamic system, home to a large diversity of species. Weather, climate, ice extent, and ocean currents all influence the Southern Ocean which is considered to be undergoing unprecedented levels of change.
 Arts-Science initiatives in Australia and around the world
… and some further thoughts:
In 2013 the RSA brings the popular art form of animation to the task of encouraging us to review the way we think in order to meet the challenges we now face: to live differently, we have to think differently.
RSA Animate – 21st Century Enlightenment
Lynchpin supports its own animation!  Watch Forests of the Sea – our 2012 project.
…. same message, slightly new format, over and over.
For the message about climate change to be received and understood it needs to arrive in as many different forms as possible.
Science, yes, but also climate change as a technological advance; a business opportunity; an economic reformation.
Artists need to be recruited to paint climate change; writers need to write about climate change; it
needs to be shown through interpretative dance.
The message needs to come from different voices from all aspects of our diverse society: sports stars; comedians; accountants;
ethnic leaders; church leaders; doctors; lawyers; professional associations.
These messengers, like the scientists at the Bureau of Meteorology and CSIRO, need to
communicate on repeat: the same message, slightly new format, over and
over.
Extract from:  Sara Phillips, ABC Environment, 14 Mar 2012
Soliphilia
Soliphilia: the love of and responsibility for a place, bioregion, or the planet and the unity of interrelated interests within it.
The love of the whole  – life + place at all scales – and the solidarity between us that is needed to keep healthy and strong all we hold in common.
Soliphilia goes beyond left-right politics and provides a universal motivation to achieve sustainability.
Soliphilia was coined by Glen Albrecht, Professor of Sustainability, Murdoch University:  the soli is from solidarity with meanings connected to: a union of interests, purposes, or sympathies among members of a group; a fellowship of responsibilities and interests.
[French solidarité, from solidaire, interdependent, from Old French, in common, from Latin solidus, solid, whole.]