Alone in space, alone in its life-supporting systems, powered by inconceivable energies, mediating them to us through the most delicate adjustments, wayward, unlikely, unpredictable but nourishing, enlivening and enriching in the largest degree – is this not a precious home for all of us earthlings? Does it not deserve all the inventiveness, courage and generosity of which we are capable to preserve it from degradation and destruction and, by doing so, secure our own survival?
Barbara Ward and Rene Dubos Only One Earth – The Care and Maintenance of a Small Planet Penguin Books, 1973  
The Lynchpin program offers a meeting place between disciplines – a place of exploration and possibility.
If you would like to join us in supporting ocean science and encouraging art-science conversations and collaborations, you can do so:
by supporting one of our scholarships;
by naming funding support for a particular project e.g. a musical or visual arts response to science;  or
by offering unattached funding.
If you are an artist
– visual/sonic/installation or performance artist/writer:poetry or prose – and are interested in being part of this collaborative venture with young ocean scientists keen to share their research, we would love to hear from you.
Please use the CONTACT tab on the toolbar to reach us.
Sue Anderson
Lynchpin Co-ordinator
The Lynchpin arts/ocean science program is made possible by the Dr RAF Murdoch Trust
The program is endorsed by the University of Tasmania's Institute for Marine and Antarctic Studies
translating nature into knowledge                  
Bookend Trust
When Lynchpin was taking shape during 2008/9, the Bookend Trust was also developing. In its start up phase, Lynchpin was fortunate to be one of a diverse range of projects to receive support from Bookend – for us this was in the form of film making of our student profiles and exposure of our projects to the community through the Bookend annual presentation night.
Perspectives develop; Bookend and Lynchpin have been led in ways we couldn't have expected back then! Visit the Bookend Trust on Facebook: https://www.facebook.com/BookendTrust to see where they are now! – and learn about the dynamic Expedition Class program.
Thanks Bookend for the start-up support to help us explore arts/Ocean science conversations and collaborations!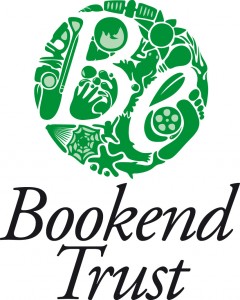 Redmap
Lynchpin thanks Redmap for support for the stop-motion animation Forests of the Sea, the Lynchpin Project 1 for 20122.  See the film and read more at 2012 Scholarships.
Redmap is the interactive program that invites the Tasmanian community to spot, log and map marine species that are uncommon in Tasmania, or along particular parts of the coast. The information collected is mapped and displayed on the site, to demonstrate over time, how species distribution may be changing.
Learn more about species shift and the new sea-life moving south with the East Australian Current and tracked by Redmap supporters at ABC News, 9 March, 2012.
Lynchpin would like to thank the following people and businesses for their enthusiasm, expert services and unfailing support:
Sincere thanks so Sarah Owen for what have now been years of sympathetic collaboration and creative design on plankton and ocean projects;  and to Jenny Manners who slipped so easily and comfortably into Sarah's shoes when Sarah's creative skills went to Switzerland!  Happy Lynchpin that the supportive liaison with Sarah Owen Designs goes on.
Thanks also to Ionata Web Design for unfailing and creative website support.