Are bacteria capable of producing fuel – the building blocks for many industrial processes?
A few months ago the Science Show, ABC Radio National, reported on work aimed at producing useful substances from algae. See this link: Scale the trick in getting algal biofuel cost down –  8th March 2014.
It seems there may be a simpler way,  and that's using bacteria. Some cyanobacteria are up to 100 times more efficient in their use of sunlight compared to plants like algae. Bruce Rittman describes his team's work using bacteria to provide many of the substances we currently source from fossils such as oil.
Also read about the remarkable work of artist Eveline Kolijn on cyanobacteria.
See : OBSERVATION AND VISUALIZATION: Reflections on the relationship between science and visual arts, and the evolution of the scientific image the publication that followed Eveline's presentation at EMBO Workshop, Heidelberg, February 2013.
View Eveline's Symbiogenesis portfolio and see her as featured artists under the Visual Arts menu .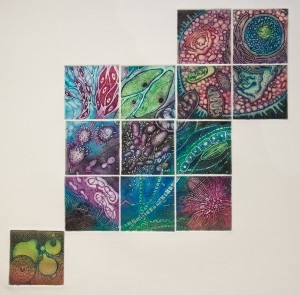 Symbiogenesis – © Evelyn Kolijn