Lynchpin Scholars for 2012
Three significant areas for scholarship support were identified and two arts responses chosen
Tasmania as global ocean warming 'hot spot';
the other CO2 problem – ocean acidification and
the vital role of phytoplankton in planetary metabolism.
2012 Project 1:  Tasmanian East coast waters as a global ocean warming 'hot spot';
2012 Project 2:  The other CO2 problem – ocean acidification:
This program developed into the three year Making of a Symphony project 2013-15.
Find Scholar Profiles by scrolling down this page OR under Our Projects on the menu bar.
FORESTS OF THE SEA: the animation!
The stop-motion team: Marine Science PhD Candidates: Jorge Ramos, Mexico  and Felipe Briceño Jacques, Chile, with Dutch artist: Malou Zuidema.
Story telling is an ancient art – it has been part of our communities since time immemorial.
What is the role of story telling in our present time?
Science holds stories of great significance for us all:  but they can be locked in the world of science with its own particular science language.
The Lynchpin program  explores ways to introduce ocean science to the community through the arts to try to:
work in solidarity with the reputable science;
engage public attention in quirky new ways;
create narratives that draw people in and prompt them to explore further.
Forests of the Sea – the animation aims to give an overview of a local science story: a visual narrative with simple and short word cues to aide the story-line.
Learn more:
Watch ABC TV Tasmania 7.30 Report, 19th April, to see  Prof Craig Johnson, Director, Marine and Antarctic Futures Centre, and others describe the changes taking place on the East coast of Tasmania:  The disappearing giants of the ocean
Below, Prof Johnson  expands on the important science behind both of our Forests of the Sea projects:
Forests of the Sea – the stop-motion animation by Malou Zuidema above, and  Forests of the Sea – the film made by Lewa Pertl – scroll down for the link to this within More on the way to the stop-motion!
90% decline in giant kelp in Tasmania refers to eastern Tasmania only. We don't have data for other regions, and declines are unlikely to be anything like this high in the south and west where the likelihood of experiencing sub-Antarctic water masses (colder and relatively high nutrients – ideal for Macrocystis) is much higher than for the east coast.
Decline in Macrocystis has been driven by ocean warming and grazing by invasive species. The key driver is warming, and whether grazing by Centrostephanus (a sea urchin species that is a relatively recent arrival in Tasmania as a result of range extension and ocean warming) had much effect is difficult to say. Grazing by Centrostephanus may well have been an important contributor at a few local sites, and where it is established to the extent that it causes urchin barrens, it would certainly mean Macrocystis couldn't recover in those places; but the overwhelming driver appears to be temperature.
 If the urchins hadn't arrived at all, I don't expect that the Macrocystis picture would have been much different (the same isn't true for other kelps). Giant kelp has declined in areas without urchins, and in some areas with urchins today, kelp was declining before the urchins established at high densities.
It is important to say that Urchin grazing is a minor player in the decline of Macrocystis (but not other kelps).
An added complexity is that some people argue that Centrostephanus is NOT an invasive species because they don't equate 'natural' range extension with invasion. Their argument is that 'invasive' implies anthropogenic vectors delivering a species to a new place in the first place. In this case the vector is a more energetic East Australian Current resulting from a spin-up of the south Pacific gyre, which itself stems from depleted ozone and climate change affecting wind patterns in the Southern Ocean … so anthropogenic or not? In any case, once it established in Tasmania, this urchin soon spread and 'invaded' the entire east coast in a manner akin to any other invasive species.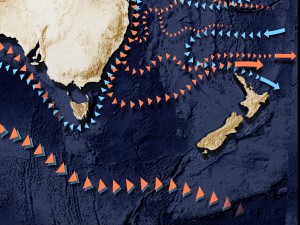 Ocean currents in the Tasman Sea
Professor Johnson concludes:  It is also important to say that the idea that natural ecosystems exist in some kind of 'fine tuned equilibrium' is old fashioned. All ecosystems, and especially kelp-based ones, are highly dynamic in time and space, and so 'equlibrium' in its strict sense doesn't apply.
Mentoring comment on the animation:
Dr Lisa Roberts of Living Data and the Antarctic Animation program gave mentoring support to the animation work of the project. She comments:  
Malou [and the scientists] have chosen a most difficult medium…. [but] it's so important to be ambitious  …. to be encouraged to learn from attempts, and model that courage. Bravo!
and her final appraisal:
This  version of the animation flows beautifully. You
have responded most diligently to the feedback from all of us and at the
same time developed a uniquely creative response to the changes
happening in the ocean. This is a great achievement. So now the
animation makes sense to all of us. We all process information in
different ways, so some people may be satisfied with only words to hear
a story whereas others (like me) also want to be shown with
moving pictures. For me the range of colours, textures and movement
qualities engage my whole being with the story. Your animation gives
me a sense of being present within the changing environment. You have
engaged me in details of the global story in ways that make me care
more deeply about climate change. Your work engages me further in the
beauty of the life-sustaining connections between us.
There is also something inherently appealing about the time-consuming
processes of collage and stop-motion animation. They reflect someone
making and creating. They engage us in a tactile, visceral way with
important natural processes of change.
Keep going with this kind of work!
Thank you Malou, Felipe and Jorge for a great year of working together to reach this special outcome!  It has been totally engaging, sometimes worrying! – as we thrashed out the science, trying to identify the  key points that could form a coherent but short storyline  – and always a pleasure in collaboration!  As Lynchpin Coordinator, I couldn't have hoped for a more successful and sympathetic group working together to make this stop-moption contribution, telling a local science story.  Between us all, and particularly in the hands of Malou with her wonderful animations and their quirky humour, the Lynchpin program is richer for the experience : a real arts-science conversation.  And for Malou, a wonderful start to developing a career in animation!
Sue Anderson, 14 December 2012.
Support links behind the science of the story:
Learn more about species shift and the new sea-life moving south with the East Australian Current at ABC News, 9 March, 2012.
Surfing scientist Ruben Meerman reports on the devastation the NSW sea urchins are causing the local fishing industry in Tasmania and the scientific approach designed to stop them in their tracks: view Catalyst, ABC 1.
Watch sea urchin in action amongst Giant Kelp forests off the coast of California in the Planet Earth series, Army of Sea Urchins – BBC Wildlife.
Update  on the East Australian Current: September, 2013
See amazing footage of sea-urchin larvae:   barely visible to the naked eye, sea urchin larvae grow and transform into bottom-dwelling urchins.  These and much more are available at Plankton Chronicles.
Follow the Redmap Field Guide – an interactive website that invites the Tasmanian community to spot, log and map marine species that are uncommon along particular parts of the Tasmanian coast. The information collected is mapped and displayed on the site, to demonstrate over time, how species distribution may be changing.
More on the way to the stop-motion!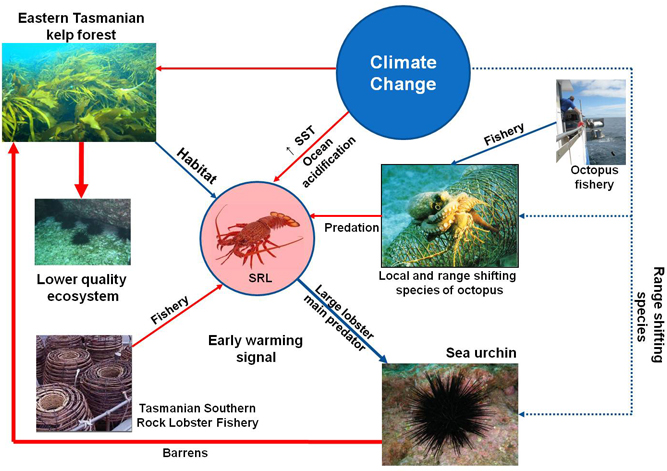 The Giant Kelp Forests  – a rich and wonderful habitat
I can only compare these great aquatic forests of the southern hemisphere with the terrestrial ones in the intertropical regions. Yet if in any country a forest was destroyed, I do not believe nearly so many species of animals would perish as would here, from the destruction of the kelp.
In The Voyage of the Beagle (1909) by Charles Darwin. pp. 244-245. Edited by Charles W. Eliot, Editor,The Harvard Classics , Vol. 29, 1909.
What is the link between Charles Darwin and a Traffic Signal Box in the Hobart CBD?
Whilst working on ideas for the stop-motion project, Malou heard about the Hobart City Council Urban Smart Projects initiative and saw this as an opportunity to draw attention to the Giant Kelp story through an urban box design and  the promotional material that would appear on the web in relation to the project.
Teaming up with Lewa Pertl, Lynchpin Scholar for 2011, the two spent an intense five days dodging inclement weather, on the corner of Murray and Bathurst Streets in central Hobart – Malou painting, Lewa filming and talking to the general public about the significance of the Giant Kelp.  Darwin would be shocked that warm and nutrient poor waters of the East Australian Current have moved further south down into eastern Tasmanian waters triggering significant species shirt,and bringing urchin larvae which when grown have contributed to an overall decline of ~90% in M. pyrifera (Giant Kelp) beds between 1946 to 2007 (Johnson et al., 2011) with significant habitat change.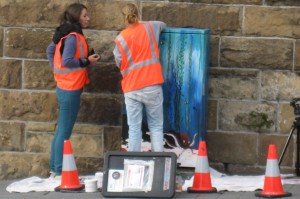 An arts response to telling ocean stories can come in a range of forms –  from highly accessible community projects like this, to dance,  sonic works as in Nigel Helyer's installations,  multimedia and the full range of traditional art forms.
View further arts responses in the story of kelp:
The exhibition Latitude, featuring Karin Beaumont and Vicki West, foreshadowed in our 2011 scholar's program.
Latitude – 146 ArtSpace :  31 May to 28 June 2012
Watch Karin and Vicki talk about their work for this exhibition.
ABC 7.30 Report Tasmania:  1 June 2012
AND – please follow the work of one of our featured artist:  Evelyn Koljin, (Canada) and view her magnificent Kelp Kabinet work.
2012 Project 2:  The other CO2 problem – ocean acidification:
This program developed into the Making of a Symphony 2013-15.
Meet the researchers:
Scholarship Recipient: Nick Roden
Watch our Lynchpin Scholar Profile.

The scholarship supports research concerned with the chemical changes of seawater around the coast of the Australian Antarctic Territory.  In particular, the changes in carbonate chemistry (a processes that buffers changes in ocean pH and influences biological activity) resulting from anthropogenic ocean acidification.
Nick is an accomplished cinematographer and his spectacular Antarctic footage will be used in the arts/science collaboration planned for this topic.
Nick was part of a scientific survey and sampling trip which ran alongside the Mawson Centenary celebrations in early 2012.  He made this excellent report for Lynchpin which gives us a glimpse of the commitment and effort made by scientists to plot the changes happening within the oceans and have significance for us all.
The vital role of phytoplankton in planetary metabolism
Scholarship Recipient: Robert Johnston
Watch our Lynchpin Scholar Profile.

This scholarship supports research into the fundamental and primary base of the ecosystem – the Southern Ocean phytoplankton, using rapid and large-scale observation of phytoplankton from space. Invisible to the naked eye, yet visible in vast biomass from outer space, the phytoplankton of the Southern Oceans have global significance and influence.
Lynchpin Scholarship support will assist travel to an international forum on phytoplankton research. Rob's important science will also influence the creative direction of the collaborative project outlined below.
Arts/Science Collaboration
Lynchpin is thrilled to announce that Tasmanian Composer Matthew Dewey is working with us in a venture that seeks to bring together composition, Nick's spectacular cinematography and Rob's adaptation of NASA space technology with footage of  the vital microscopic organisms responsible for planetary metabolism.   Through these and selected  visual arts responses, we hope to generate a different 'experience' of ocean science.
Follow The Making of a Symphony here.
Recommended reading around this topic : The Power of Plankton
Do tiny floating microorganisms in the ocean's surface waters play a massive role in controlling the global climate?
Paul Falkowski, Nature 483, S17–S20 (01 March 2012),  doi:10.1038/483S17a
NewScientist: Published online 29 February 2012
Visit Why Lynchpin/Learn More to see spectacular footage of these important micro-organisms.